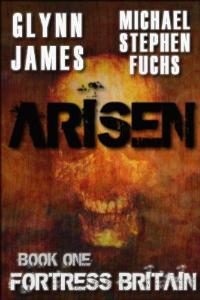 Readers are calling the ARISEN series:
"a non stop thrill ride" … "unputdownable" … "the most original and well-written zombie novels I have ever read" … "riveting as hell – I cannot recommend this series enough" … "the action starts hot and heavy and does NOT let up" … "astonishingly well-researched and highly plausible" … "non-stop speed rush! All action, all the time – got my heart racing" … "A Must Read, this book was a hell of a ride" … "may be the best in its genre."
Over 100,000 ARISEN books sold and still climbing…
A world fallen – under a plague of seven billion walking dead
A tiny island nation – the last refuge of the living
One team – of the world's most elite special operators
The dead, these heroes, humanity's last hope, all have…
ARISEN
Book One – Fortress Britain
When the Zombie Apocalypse came, one country had shut down its borders in response to a major terrorist attack. Now Fortress Britain is the last bastion of the living – with 50 million beleaguered survivors facing down a world of 7 billion animated corpses.
And when civilization fell, one international team of supremely elite special operators was being assembled for a nearly impossible mission, deployed out of the SAS barracks at Hereford. Supremely trained and armed, always the most skilled, resolved, and unstoppable amongst us, now the commandos of Alpha team are humanity's last best hope for survival. Searching through the detritus of fallen Europe, scavenging pharmaceutical labs for clues to a vaccine that might bring humanity back from the brink, now they are tasked with one last desperate operation.
They must cross the Atlantic aboard the world's only remaining supercarrier, insert by air into the very middle of a dead continent, and then fight their way on foot through a city of 3 million ravening dead guys. But these Zulus will not be like any zombies they have ever fought before…