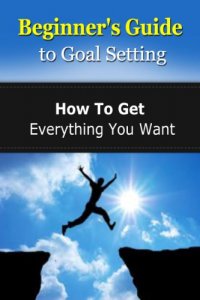 Bargain on 30th Dec 16



or borrow free on Kindle Unlimited.
No reviews yet.
Do you want to improve things with your career and relationships? In reality I think you want to improve a lot more than just two areas of your life. This is the beginner's guide for goal setting. You may have achieved a lot so far, but there is always a next level. I'll show you how to get there quickly.
Today get this Amazon eBook for only $2.99. Regularly priced at $4.99. Read on your PC, Mac, smartphone, tablet, or Kindle device!
These Strategies and Principles Can Help You Get Where You Need to Be
This guide will help you set goals and create enough motivation to actually follow through. Have you ever set a goal at the beginning of the year and never revisited the goal? Goals help create dreams and success. It's plain and simple. How come so many people don't set goals? Worthwhile actions and plans are easy to follow through with and also easy not to follow through on as well. By following these steps and putting in the simple daily steps, you can make it happen.
A Preview Of What You Can Learn
How to build huge goals

How to create a lasting method and system for follow up

How to create a winning attitude that stems from WHY you want a goal

What writing your goals down daily will do for you

How stop setting tiny goals and being dissapointed

Step towards your goal and learn why celebrating is so important

Enjoy following through on closing out what you started
Why even set goals? Ever since setting goals I have seen a huge jump in achievement and confidence. If you can't take the time to set goals and check in with yourself, you are just cheating your life out of what it could be. It is not very difficult; I show you step by step through how I have started setting goals and what works.
Tags: Optimism, Emotions, Positivity, Attitude, Wealthy, Confidence, Habits, Creation, Production, Procrastination, Media, Productivity, Goals, Focus, Concentration, Development, Improvement, Momentum
Download Your Copy Today

The material in this eBook is easily worth more than $4.99, but for a limited time you can download Beginner's Guide to Goal Setting: How to Get Everything You Want for a discounted price of only $2.99!
To order Beginner's Guide to Goal Setting: How to Get Everything You Want, click the BUY button and download your copy today. You can read the book from the convenience of your Kindle, Computer, or Tablet.