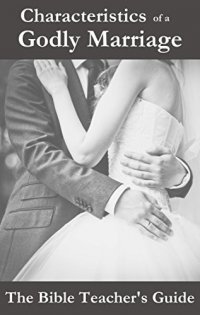 Bargain on 29th Dec 16



or borrow free on Kindle Unlimited.
No reviews yet.
Around fifty percent of marriages end in divorce and of those who stay married, a large number are unhappy. "Happily ever after" seems to be something only reserved for fairy tales. Even the disciples, when considering the difficulties of marriage, replied, "If this is the situation between a husband and wife, it is better not to marry" (Matt 19:10). Certainly, this is not what God had in mind when he created marriage (Gen 2:24). How are marriage couples supposed to experience the abundant life that God originally meant for them?
In 1 Peter 3:1-7, Peter speaks to husbands and wives about the characteristics of a godly marriage and God's expectation for each in the union. Through this, we learn God's perfect plan for married couples. Let consider it together with the Bible Teacher's Guide:
"Expositional, theological, and candidly practical! I highly recommend The Bible Teacher's Guide for anyone seeking to better understand or teach God's Word."
—Dr. Young–Gil Kim, Founding President of Handong Global University
"I can't imagine any student of Scripture not benefiting by this work."
—Steven J. Cole, Pastor, Flagstaff Christian Fellowship, Author of the Riches from the Word series