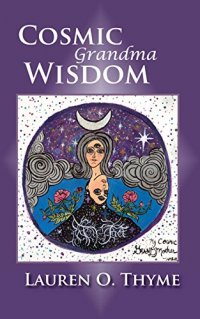 Bargain on 13th - 17th Dec 17



or borrow free on Kindle Unlimited.
No reviews yet.
Also Available as:

Cosmic Grandma Wisdom is a compilation of 33 spiritual and metaphysical essays by Lauren O. Thyme, author of The Lemurian Way: Remembering your Essential Nature; Along the Nile; Thymely Tales; Alternatives for Everyone; From the Depths of Thyme; Strangers in Paradise; and Twin Souls: A Karmic Love Story.
Lauren has devoted her life to spiritual seeking, being of service to others, working towards her own growth and evolution, and "paying attention."
Cosmic Grandma Wisdom is enriching, enlivening, and thought-provoking, with appealing reflections on metaphysical, spiritual existence and how to positively reframe one's views on modern life.
Included in Cosmic Grandma Wisdom are: "There's no one to blame for our problems," "Tea with Bin Laden," "Battle of beliefs," "What on earth is the sun doing to us?" "The Universal Bank Account," "Everything is perfect no matter what it looks like," "The importance of psychic/spiritual discernment," and many others including her provocative "Lauren's Laws" along with stories of mind-boggling personal encounters.
Lauren's beloved granddaughter Ambur Rockell, a singer, songwriter, author, and artist, gave the book Cosmic Grandma Wisdom its endearing title.