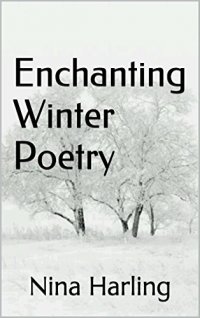 Bargain on 15th - 19th Aug 19



or borrow free on Kindle Unlimited.
No reviews yet.
Enter the enchanting world of winter time. Wrap up warm and grab a hot chocolate by a crackling fire, then read these thirty-two poems by Nina Harling. Twelve of these poems have been specially selected from Nina's other books: "Eclectic Poetry", "Gothic Poems" and "Traditional Christmas Poetry"that fit in well with the theme of "Winter." The coldest season awaits you.
A list of poems are:
1) Snow Flakes
2) Winter Worlds
3) Frozen Lake
4) Icicles
5) Jack Frost
6) Ice Skating
7) Snowball
8) Snow Covered Trees
9) Crystal Freeze
10) Enchanted Woods
11) Ice River
12) Snow Top Mountains
13) Icebergs And Glaciers
14) Polar Bear
15) North Pole
16) Iceland
17) The Northern Lights
18) Frozen Kingdom
19) Snow Fox
20) Snowy Owl
21) Winter
22) Frozen
23) Ice
24) Cold
25) Snow
26) Robin
27) The Crow
28) Wolf
29) A Winter Tale
30) Snow Maiden
31) Snowy Day
32) Snowman