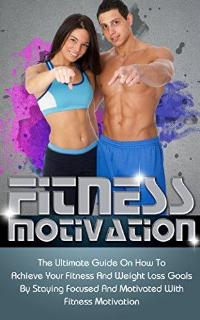 LEARN HOW TO PROPERLY SET AND ACHIEVE ALL OF YOUR FITNESS AND WEIGHT LOSS GOALS! ***FREE Bonus Right After The Conclusion***
Stick to your workout or weight loss routine and finally get the results you want!
The teachings in this book will give you the tools needed to stay focused and motivated to reach all of your fitness and weight loss goals. Admit it, we all want to be fitter and healthier and everyday millions of people start fitness programs but just aren't able to follow through on their plans. We all know someone who has been there and likely we ourselves have even been there. But if we set goals and hold ourselves accountable to these goals, our chances for success greatly improves!
This book will teach you just how to do that and includes proven steps and strategies that will teach you the tasks involved on how to set ideal goals and how motivation will improve your performance.
Here's What This Book Will Teach:Importance Of ExercisingHabits Of Successful ExercisersHow Motivation WorksHow To Stay MotivatedHow To Set Fitness And Weight Loss GoalsCreating A Fitness Plan And Staying MotivatedIntroduction On How Calories Work
Now get focused and stay motivated!
DOWNLOAD YOUR COPY TODAY!