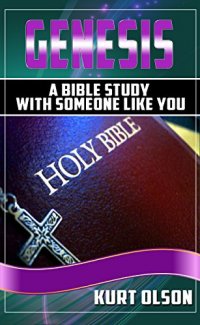 CHECK THE REVIEWS – READERS AGREE THAT THIS BIBLE STUDY IS A WINNER
Many Other Bible Studies Are Hard to Understand
This Bible Study Is Easy To Understand And Enjoyable To Read Because it is

Written by Someone Like You
Author Kurt Olson is not a Bible scholar, he is not a Preacher and he is not even a teacher.
He is Someone Like YOU. He writes in a style like you talk and think.
Too many Bible Study writers assume that Everyone knows and understands the Bible
#1. Some Bible Studies can be Very time Consuming
#2. Reading the Bible without help can be Intimidating
#3. Biblical scholars often don't speak in simple language
#4. People will often neglect reading the Bible because they don't understand it
WHERE CAN ONE LOOK TO FIND A BIBLE STUDY THAT IS EASILY UNDERSTOOD AND ENJOYABLE TO READ?
A BIBLE STUDY WITH SOMEONE LIKE YOU is a series that IS easily understood and IS enjoyable to read
Let's Take A Look At The Topics To Be Covered in this study on the Bible book "Genesis"
1)The Beginning of the World2)The Creation of Man and Woman3)The Flood that Destroyed the World4)All about Abraham

5 )Stories of Jacob and Joseph and much more!
Kindle Books have a 7-DAY MONEY-BACK GUARANTEE!
Put us to the test! Read our book for up to 7 days, risk-free. If for any reason you are not completely satisfied, return the e-book for a full refund.
Would You Like To Know More?
Press "Buy now with 1-Click" to receive this life changing enjoyable reading Bible Study for just $2.99
Now available on all platforms: PC, Mac, Tablet, Kindle, or Smart Phone!

P.S – This Book is enrolled in 'KINDLE UNLIMITED',

If you are a Kindle Unlimited Subscriber, Download this book for FREE,

and I bet, you will buy it afterwards for your collection and reference.
Tags: Bible Study/Bible Commentary/Daily Devotional
To post any comments or inquiries about this book or to find out what other "A Bible Study With Someone Like You" series books are out, feel free to email the author at: ABibleStudyWithSomoneLikeYou@outlook.com

Also Available in Kindle Audio book