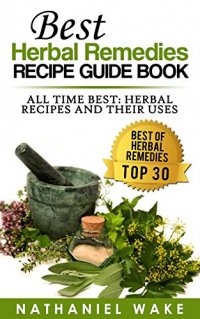 Bargain on 28th Aug 17 - 1st Sep 17



or borrow free on Kindle Unlimited.
No reviews yet.
Do You Want Recipes That Work? Well Here They Are! 30 Herbal Recipes From My Private & Proven Collection
These Proven Recipes are worth 10x This Amount! … Take A Look Inside…You will use them all the time… And you can Swipe 2 For FREE!
Herbal Remedies are a Holistic natural treatment that uses the body's natural design to be rejuvenated and infused with powerful natural properties of herbs and essential oils. You can naturally and effectively treat common ailments such as
DiabetesHigh Blood PressureDepressionStressMuscle achesAnxietyInsomnia
And many others that would exceed the limit here to list.
Natural Healing Methods of Herbs & Essential Oils we teach you to use here in this book house powerful fusion compounds that when used as we teach you, can activate physiological responses in the body naturally that are hindered by our dulled senses and destroyed immune systems!
You will be able to do this all in the comfort and safety of your own sanctuary. Easily – Safely – Effectively
Pharmaceuticals can get expensive and that is what we are trying to break free from. So making your own herbal remedies is a great alternative. If you are planning to get started in herbal medicine make sure you check out my other Herbal Mastery Series Best Seller Guide as well…..

So now is your time to Scroll on up and grab a copy of this book at this introductory price. Get it today! Or get it FREE with Kindle Unlimited!