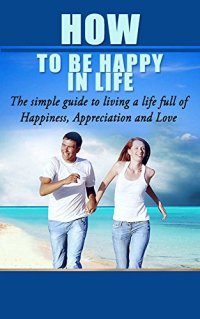 Bargain on 30th Dec 16



or borrow free on Kindle Unlimited.
No reviews yet.
How to Be Happy in Life the Simple Guide to Living a life Full of Happiness, Appreciation and love
For a limited time only, get this Amazon Book for just $0.99. Regularly priced

at $4.99. Read on your PC, Mac, smart phone, tablet or Kindle device.

You're about to discover how to live a more pleasant life in the face of adversity, old age, while living a life of solidarity and much more. You'll also learn some of the many benefits that come to you while you're in a state of happiness. Being in a state of happiness doesn't have to be a difficult thing to achieve; with the points expressed in this book it will help lead you in the right direction to find your happiness.

To be honest many of us live life unhappy, miserable and depressed. We don't know that living a life of happiness is simpler to understand than we've previously thought. This book will focus you in the right direction to change your state of happiness now, as well as what you need to look at and do to maintain a happy life forever.

Here Is A Preview Of What You'll Learn…
Definition of HappinessBenefits of HappinessHow to Have a Happy LifeFinding Happiness in AdversityWealth and HappinessKeeping the Smile on Your Face Download your copy today!

Take action today and start a new chapter in your life, one with more happiness, appreciation and satisfaction by downloading this book for a limited time discount of only $0.99!

Check Out What Others Are Saying…
"This book was a fresh breath of air because it gives us reminders on how the simple things in life will bring us joy if we just notice they're there."- Amanda Rose
`How To be Happy In Life' written by Jeffrey Robin is short but nicely written booklet full of life wisdom, an interesting self-help title about happiness that can be recommended for quick reading.- Denis Vukosav
A fantastic book about happiness. This book showed me some good practical ways on how to be happy. I liked the fact that the author explained what happiness exactly is. It was interesting to know that happiness gives you good health and you become more likeable. I really recommend this book to everyone!- Walter
I really enjoyed this book. The author does does a great job in offering different perspectives on being happy, I really loved the emphasis put on being grateful.-Jon Vick
This is such a beautiful book! I found it very motivating and inspirational. While it's a short read, it really provides a well-rounded theory on what it means to be happy and live a full-filled and balanced life.- Liz Walters
Tags: Thinking positive, overcoming depression, Self Esteem, Being Happier, Follow Your Heart