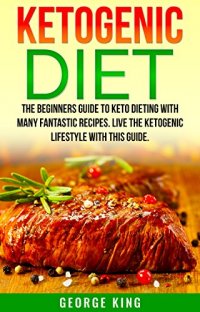 Bargain on 11th - 15th Jan 18



or borrow free on Kindle Unlimited.
No reviews yet.
Many Great Recipes To Help You In Your Ketogenic Diet, Easy To Follow Instructions With 5 To 10 Ingredient Recipes!
'Ketogenic Diet – The Beginners Guide to Keto dieting with many fantastic recipes. Live the Ketogenic lifestyle with this guide' and hope that you find this book interesting and informative.
A ketogenic diet is one that calls for a moderate protein, high fat and low carb nutritional intake and has gained popularity in the last few years. This is due to the fact that more people are looking for a nutritious way to optimize their health that encompasses the consumption of real foods. This diet can be tailored to meet an individual's needs. The term ketogenic was the fifth-most searched word on Google in the year 2013. You may have heard that it is a healthy way to lose weight when your body is in a state of natural ketosis, but this diet is much more than that.
The book provides you with recipes that adhere to the rules of a ketogenic diet. The best part about these recipes is the fact that they are quick to make and use minimum ingredients, so you can rest assured that you won't dig a hole in your wallet to cook these meals. You can tweak these recipes to your liking as long as you use Keto compliant ingredients.
Here Are Some Of Recipes That You Will Find In The Book …
Steak and Eggs Salmon Spring Onion OmeletShamrock ShakeBuffalo Chicken SoupCreamy Shrimp and Cauliflower SaladMocha Walnut Coffee BitesGarlic Parmesan ZucchiniChocolate Cherry CheesecakeAnd Much, much more!
Download your copy today!