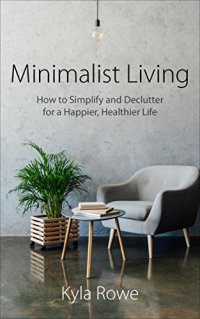 Bargain on 10th - 14th Jan 18



or borrow free on Kindle Unlimited.
No reviews yet.
You Are About to Learn the Secrets of Simplifying Your Lifestyle and Living a Happier, Healthier Life!
When you ask most people what minimalism is, they will probably relate it to a way of decorating the home, and you may understand what I'm describing here, with sparse furniture selections and light-colored walls to match.
Minimalism also includes positive thoughts, thinking outside the box and learning to be happy with what we currently have. While this may sound unrealistic for many people, I assure you, having less physical things in your life also means we can have more in the end. I will explain to you exactly what minimalism is and why it matters to all of humanity.
By following some of the minimalistic thoughts throughout this book, my hope is to help you break free of the mesmerizing advertisements, corporatism, and the buy-now-thinking that humanity has been so indoctrinated to believe in.
Here Is A Preview Of What You'll Learn…
What is Minimalism?How to Get StartedEliminate ClutterExcess Technology Is Affecting Our PlanetTake A Rest And Learn To Breathe For Better HealthAnd Much More!