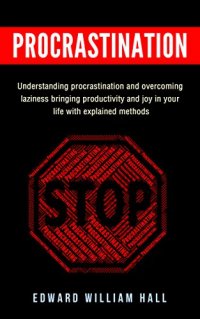 Bargain on 27th - 31st Aug 17



or borrow free on Kindle Unlimited.
No reviews yet.
Do you feel a resistance every time you want to do something that would be out of your comfort zone? Something that YOU wanted to do?
The truth is, if you procrastinate, you won't be able to achieve what you want. This is a bad habit that is keeping you away from success.
The habit of procrastinating can lead to a variety of issues :
Anxiety
Unhealthy decisions
Financial problems
Laziness
Not enough confidence to act
A lack of patience
It's critical that you stop procrastinating and focus on what really matters to you.
This book has a straight-forward, practical and a highly motivational content.
In this book you will discover:
7 Examples of Procrastination
7 Methods for overcoming Procrastination
Top 7 list to highlight how important you are.
And
The 3 learning types:
The Dabbler Type
The Stressed Out type
The Master Type
Whether you are someone who is just lazy or procrastinates a lot, you'll discover what are these two bad habits and why is it so important to stop doing them!
Learn How to Stop Procrastinating by Clicking the "Buy Now" Button at the Top of the Page.