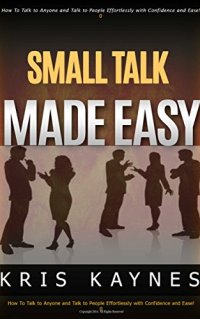 FinallyNot Only MASTER SMALL TALK but also NEVER RUN OUT OF THINGS TO SAY!
Today the wait is over and you can finally learn how to achieve effortless small talk and Never Run out of things to say again!
We've all been there. The waiting room awkward silence, or maybe the elevator ride with that cute blond, and while you are busy thinking of what to say, she gets off on her floor! You have definitely been in an occasion or two where small talk would make the occasion 100x less awkward, but it seems impossible.
YOU NEVER HAVE TO WORRY ABOUT SMALL TALK AGAIN!!!!
In this awesome book I am going to share with you how to start an engaging conversation and keeping the person engaged and NEVER RUN OUT OF THINGS TO SAY!! Inside this awesome read I share my 5 step RULES of never running out of things to say, and they may surprise you!!
Along with this you will be shown the dynamics behind what happens in small talk and the power that you can culitvate by simply mastering this little conversation that we all have every day. You can take your life and growing it to amazing, catastrophic proportions if you simply apply what is broken down EXPERTLY in this book!
Here Is A Preview Of What You'll Learn…
Starting of Simple, WHAT is Small Talk!?The Magic Power of Small TalkHow to Start and Make it Happen with ANYONE!Different Kinds of Small TalkHow to Never Run Out of Things to SayWhy this is possible for everyoneMuch, much more! Download your copy today!
Take action today and download this book for a limited time discount of only $0.99! Make the choice NOW to master Small Talk and take control of your social life ONCE and for all! Grab this book NOW!!
Check Out What Others Are Saying…