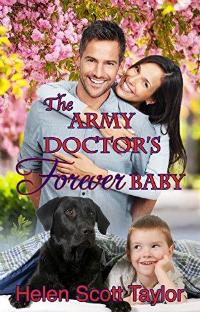 Army doctor, Captain George Knight, is career focused and eager to see action. When he helps out a fellow doctor, Sandra Fisher, after an accident, he's not looking for romance. But this pretty, unassuming woman has secret hidden depths that fascinate him. When he's sent away to war, Sandra has her own challenges to face. Can their love survive the heartbreaking test that fate has in store for them?
Other books in the Army Doctor's Series. (Books can be read in order or as stand-alone reads.)
#1 The Army Doctor's Baby. He falls in love with his brother's girlfriend.
#2 The Army Doctor's Wedding. A marriage of convenience to adopt an orphan baby.
#3 The Army Doctor's Christmas Baby. Heartwarming Christmas romance.
#4 The Army Doctor's New Year's Baby. His commanding officer's sister is irresistible.
#5 The Army Doctor's Valentine's Baby. An abandoned baby brings two lonely doctors together.
#6 The Army Doctor's Honeymoon Baby. Best friends become lovers, but a family secret threatens their happiness.
Praise for Helen Scott Taylor's Books.
"It was incredibly romantic and sweet, and I couldn't wait to find out how it turned out." Abbey, Wendy's Minding Spot
"This is the type of book to snuggle up on the couch with on a slow Saturday afternoon to lose yourself in heartbreak, romance, and happily ever after." Sandy M, The Good, The Bad, and The Unread
Other books by Helen Scott Taylor
A Family for Christmas. The magic of a little girl's love brings them together.
A Christmas Family Wish. She's rescued from a storm by her teenage crush.
Love is All Around. A Box Set of three contemporary romances.
Oceans Between Us. A Cinderella love story – A wealthy celebrity falls for a penniless cook. Contemporary Romance.
Finally Home. She can finally stop running from the past .
Unbreak My Heart. Childhood sweethearts torn apart have a second chance at love. Contemporary Romance.
A Family Forever. A lonely man and his little boy long for a proper family.
Moments of Gold. Anthology of short love stories – Love always finds a way.
Flowers on the Water. A tragedy so devastating she thought their love had died.
Cursed Kiss. Love in his eyes and death in his kiss.
Ice Gods. He's loved and protected her from afar, now he can finally make her his.
The Magic Knot. Danger and romance in a dark fairytale world.
The Feast of Beauty. Ancient Celtic magic binds her destiny to a mysterious Irishman.
Warriors of Ra. Once bathed in his fire, she's his forever.
A Clockwork Fairytale. A young spymaster falls in love with a lost princess.
Wildwood. The blood of a Celtic god runs through his veins.