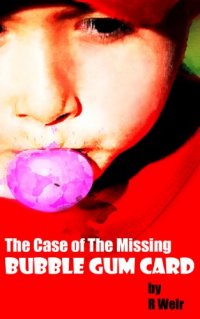 "Jarvis is my new favorite PI. love the story and the character." – Amy's Bookshelf Reviews "Amy Shannon"

"This story has a great atmosphere and an excellent moral. Would definitely recommend." – Lara Rouse

"Beautiful story and well written. It is a short story you can read in a half hour. It definitely is a clean read, no sex and no explicit language. It would especially appeal to YA readers, but adults will love it." – Zeece Lugo
Jarvis Mann was a Private Detective, whose business thrived on the mundane, paying the bills following cheating spouses, getting in the middle of messy divorces and working for the Fat Cat Insurance companies running down false insurance claims. But one day on his office steps a young man coaxing with the simple word "Please" convinces him to help on a Winter's Sunday afternoon to find a missing valuable Ernie Banks Rookie Bubble Gum Card. With a dry sense of humor he drives the Denver streets from door to door, friend to friend, until a clue leads to a surprising discovery, a young man's personal pain and his friends selfish act, teach Jarvis a life lesson that will shape him with new hope and resolve.
An 8400 word Short Story by Author R Weir
"I really didn't know about the title but I have to say this far exceeded my expectations. It introduced us to a hard boiled detective with a semi-soft heart. I loved this series and want to read more. Please go and check it out its so worth the read." – Kiki's Indie Reviews and Rants's Activity
Enjoy a short 1st person Detective story, with humor and a surprising ending; then purchase this today or Look Inside to get a preview.
Also check out the next in next in the Jarvis Mann PI series, Tracking A Shadow for only 2.99 on Amazon.

http://www.amazon.com/dp/B00MQHVKJA
Now available for pre-order, release date May 29th, Twice As Fatal-A Jarvis Mann Detective Story Book 3

http://www.amazon.com/dp/B00XTNTHWW