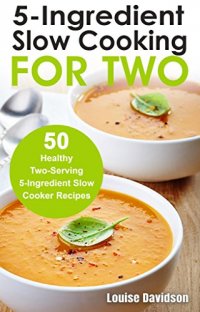 Free on 31st Mar 22 - 2nd Apr 22


No reviews yet.
Simplify your life with easy to make slow cooker 5-ingredient recipes for two!
It doesn't get easier than that! Home cooked meals that taste delicious and take only a few minutes to prepare. All you need to do is add the ingredients to the slow cooker and let the magic happen.

A slow cooker is a modern kitchen appliance designed to provide the ultimate cooking convenience. Three words that perfectly describe a slow cooker are durable, versatile, and portable. It lets you prepare all types of meals without demanding much of your time. Slow cooking takes many hours to prepare aromatic, healthy cuisine, but only a few minutes of your time. All you need to do is to add the specified recipe ingredients, close its lid, set the cooking time, and that?s it.
A slow cooker is a healthy way of preparing food, as it preserves maximum nutrients including minerals, proteins, vitamins, and anti-oxidants. Slow cooked meals are truly nutritious and delicious for our body. Rich in essential nutrients, these meals are sure to keep you going.
Our hectic work life makes it hard for homemakers and working couples alike to find time to complete day-to-day errands. We are always in a rush to get things done, and extra time seems like a true luxury. Everyone is on the lookout for smart hacks that give them more time to spend with each other.
This book provides an exclusive collection of healthy and delicious slow cooker recipes to prepare from just five ingredients for two people. When you need only five ingredients to make delicious recipes, it?s quick and easy to prepare your meal.
Inside, you?ll find:
?Essential slow cooking tips
?Delightful breakfast recipes such as the Strawberry French Toast and the Salmon Casserole Breakfast
?Wholesome chicken and poultry recipes like the Tomato Turkey Chili and the Cranberry Sweet Chicken
?Bountiful beef recipes like the Barbecue Mustard Beef and the Cheesy Eggplant Beef
?Marvelous fish and seafood recipes such as the Tangy Asparagus Tilapia and the Coconut Clams
?Fulfilling pork and lamb recipes such as the Sweet Potato Chops and the Lamb Spinach Curry
?Satisfying vegetarian and vegan recipes such as the Sweet Green Beans and the Cheesy Tofu & Peas
?Delicious dessert recipes like the Creamy Chocolate Treat and the Cinnamon Apple Delight
All recipes come with a detailed list of ingredients, cooking and preparation times, number of servings, easy to follow step-by-step instructions, and nutritional information per serving.
Download FREE with Kindle Unlimited!
Read on your favorite devices such as Kindle, iPhone, iPad, Android cellular phone, tablet, laptop, or computer with Amazon's free reading Kindle App.
Let's start cooking delicious, healthy home-cooked meals for two!
Scroll back up and click the BUY NOW button at the top right side of this page for an immediate download!