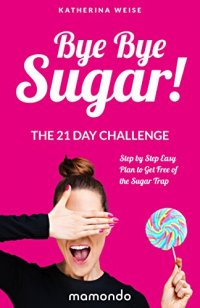 Bargain on 27th Sep 17 - 1st Oct 17



or borrow free on Kindle Unlimited.
No reviews yet.
Get this Kindle Book for just $0.99. Regularly priced at $2.99. Read on your PC, Mac, smart phone, tablet or Kindle device.
Bonus: As a thank you for your purchase you get our e-book with "The Top 12 Anti-Aging Superfoods For All" for free!
Use These Powerful Tools On How To Stop Your Sugar Cravings Within 21 Days!
This book contains proven steps and strategies on how to avoid sugar addiction and live a healthier lifestyle.
Sugar is the sweet stuff that makes food tasty and well, sweet. It adds flavor to food and drinks and makes them more palatable in some cases. It is in almost everything that you eat and most flavored beverages that you drink. It's not a bad thing per se, but too much of it can lead to health problems such as diabetes, heart problems, and their complications. If you suspect that you are addicted to sugar or are consuming more sugar that the average person and you want to quit, this book is for you.
Within the pages of this book are proven tips and tricks on how to stop your sugar cravings within 21 days. It contains lots of information on how you can avoid the many sugar traps that you encounter every day. You will also be taught how to spot products that contain sugar and how to change your habits so that you won't crave the sugary stuff anymore.
Here Is A Preview Of What You'll Learn…
What Is Sugar And Is It Really Bad For You?What Sugar Does To The BodyGetting Into The Sugarless HabitAnd Much More!
Take action now and download this Kindle Book for a limited time discount of only $0.99!