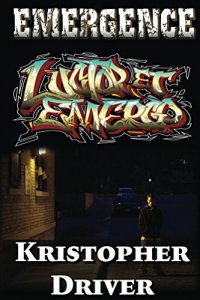 Bargain on 18th - 22nd Apr 18



or borrow free on Kindle Unlimited.
Take a seat behind the mind's eye of neurotic high school student, Justin, as he endeavors to resolve all of life's greatest mysteries: what exactly is a life of virtue, and how are we to go about living it. Feeling burdened by anxiety and overwhelmed by environmental pressures, our protagonist is drawn through a series of unlikely events, the chaos seeming far beyond his control. Follow Justin as he tries to govern his life through headwind after headwind of moral dilemmas, which he steers by way of deeply philosophical enquiry and candid introspection.
The story takes place in the urban centre of Winnipeg, Manitoba, the heartland of the Canadian Prairies. In a narrative wrought with metaphor and dark humor, playful use of colorful language and in style reminiscent of past hellenic dialogues, Emergence is a crime drama for every one interested in taking a long, objective look at their own prejudices and deep-seeded beliefs.
For the original 19-song amateur soundtrack for "Emergence – Luctor et Emergo" please download MP3's and cover art from here: PROMO CD
https://drive.google.com/open?id=0B4vZ2eMJbNptcjVBRzJUWTgwOUk. Singles are available on YouTube as well at: https://youtu.be/ezxRh-Ha8mw or look up Kris Driver on YouTube