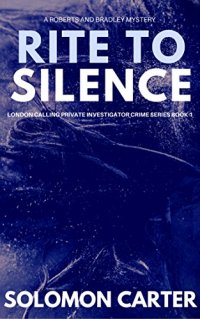 A young loner drops dead on a public street. The circumstances of his death are bizarre, bloody and deeply disturbing.
Dressed in a white gown, with black make up daubed across his eyes, the victim was killed by knife with devilish precision – and yet more grisly secrets are uncovered… a plastic token is hidden in the fatal wound.
Why was the young man killed? What is the meaning of the gown and the strange method of murder? Private investigators Eva Roberts and Dan Bradley are hired to honour a young man's memory and to prevent another bloodbath. To win they must outwit a deadly mind before the sinister killer strikes again. The PIs are caught up in a race against a police investigation led by arrogant new DI Joe Hogarth… An investigation which is heading in the wrong direction…
Reputations are at stake. Friendships are on the line. Love affairs may live or die. The murderous plot of a cold dark heart goes on unseen. The killer will strike again at any time.
Full of dramatic tension, with snappy dialogue, mystery, twists, thrilling action, humor and a hint of romance, this full-length novel should satisfy fans of all great mysteries and crime thrillers. If you love Lee Child, Robert Crais, Harlan Coben, Ian Rankin, Christopher Greyson and the Long Time Dying series then you will love Rite to Silence, the first instalment of the gripping new series, London Calling
Eva Roberts & Dan Bradley – London Calling Private Investigator Crime Thriller Series
RITE TO SILENCE – Book 1
LONDON CALLING – Book 2
PROMISE TO PAY- Book 3
AND BOOK 4 COMING SOON…
Categorised as:
Private investigator crime thriller series
Private investigator mystery novel series
Private investigator novel series
Private detective novel series
Pulp thriller
Men's action and adventure
British crime thrillers