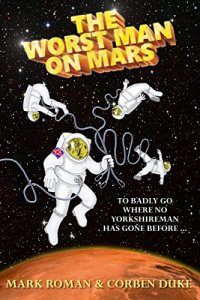 Free on 17th - 21st Jul 21



or borrow free on Kindle Unlimited.
Also Available as:
Print Edition

Hero. Legend. Role model. He's none of those.
Flint Dugdale, blunt Yorkshireman and reality TV show winner, has used his large frame and 'persuasive personality' to take charge of Britain's first mission to Mars.
Little does he know that the base – built by an advance party of incompetent robots – is not quite ready yet, with no food, no water and no doors. Worse, the ship's scanners are picking up strange signals from the surface.
There is life down there. But will it be pleased to see him?
A laugh-out-loud science fiction comedy that's a cross between Red Dwarf and The Martian.
Winner in the Captivating Opening 2017 contest run by WriteIntoPrint.
Chapter 10, The Rovers Return, was shortlisted in the short story category of the Yeovil Literary Prize 2014.
"Duke and Roman inspire much laughter in their first book … With humor that ranges from slapstick to the macabre, this story reveals the absurdity that might ensue if technology is endowed with too much personality." – Publishers Weekly
"Some parts of the book had me laughing so much I had to literally put it down and step away." – SFcrowsnest magazine.
"… a real gem that will have you grinning inanely a lot as well as laughing out loud at inopportune times … Highly recommended." – BookLore reviews.
"Very inventive, imaginative, and funny from cover to cover." – Kevin Bergeron, author of In a Cat's Eye
"A brilliantly funny and cleverly conceived work." – Rob Gregson, author of Unreliable Histories
"The funniest sci-fi I've ever read … and I don't even like sci-fi!" – Frank Kusy, author of Rupee Millionaires
"It's true, if the Brits launched a mission to Mars absolutely anything could happen." – Dave from the corner shop.