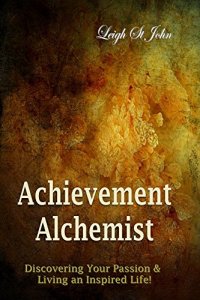 Bargain on 27th Dec 16



or borrow free on Kindle Unlimited.
No reviews yet.
What is an "Achievement Alchemist"?  Most of us have heard the stories of the alchemists of old who were said to be able to turn a mixture of various elements and other substances into precious gold…  An Achievement Alchemist is one who takes various elements and learns to successfully put them together to realize their potential and achieve the life of their dreams!
It's interesting if you look at the two words ACHIEVEMENT and ALCHEMIST and by simply moving the spaces around we come to what is the real definition of an Achievement Alchemist – achieving the mental chemistry necessary for inspired success!
ACHIEVE MENTAL CHEMIST
ACHIEVE MENT | AL CHEMIST
At over 400 pages, this 'guided journal' is your step by step guided journal to help you achieve your own achievement chemistry, discover your passion and live an inspired life!