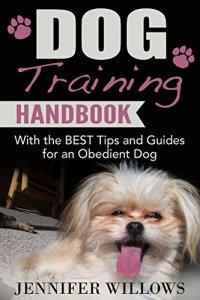 Bargain on 20th Dec 16



or borrow free on Kindle Unlimited.
No reviews yet.
Dog Training Handbook: The BEST Tips and Guides for an Obedient Dog
Dogs are amazing species…clearly you agree since your seem to have gotten yourself a new friend. They are life companions and they are more loyal than most other species..ahem.
Although they can be amazing pets, they must be trained. An untrained dog can cost you lots of money in damages such as chewing furniture, shoes and clothes, they can destroy fabric sofas by jumping on them with dirty paws. Dogs can even become a liability if they are aggressive with other people and this can get both you and your pet in serious trouble. Fortunately with proper training your dog will be amazing.
This book is designed to bring your the best of the best. Techniques that are simple to learn for both you and your pet. You will only need 15 minutes a day so your dog doesn't become irritated and bored, you too will not need to invest countless hours training. Anyone can implement the process outlined in this book, you will bond with your dog and find it to be a pleasant experience.
Here Is A Preview Of What You Can Expect To Learn:
Equipment and training tools you need to properly train your dog and the most important part of your dog training process.Understand how dogs learn and effectively train your dog by adding a cue.Chose a wide variety of reward base training and train your dog quickly and with fun, both for you and your dog.Know how easy it is to train a dog with only a clicker and a few treats. You can train your dog so many things using only these tools. House train your dog with a crate, apply crate to successfully train your dog to behave in the home. Prevent him not to chew stuff or adapt to live on his own when you are outside.Effectively train your dog to eliminate indoors or outside. An entire chapter dedicated only on this subject.Solve inappropriate behavior of your dog, such as barking, jumping on people, digging, escaping, biting out of fear or showing aggression. And much, much more!
This book is a complete package for you to train your dog effectively without any complex method. No need for you to hire a trainer and with these playful training exercises your dog will learn quickly, efficiently.
To learn more about how to train your dog, download your copy of this book now!
Download your copy today!