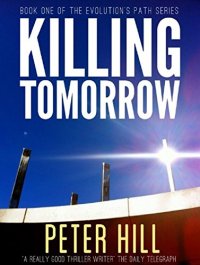 An international near-future terrorist thriller.
Peter Hill has recently returned to novel writing after a successful career as a writer and script editor for many renowned TV drama series and as the author of the 'Staunton and Wyndsor' series and 'Commander Allan Dice' books written in the 1970s.
Killing Tomorrow
Book 1 of the 'Evolution's Path' series.
If you're reading this, it hasn't happened. Yet.
Two disparate couples: high-profile journalist Fleur Nichols and her American lover, documentary filmmaker Joe Kendry; microbiologist Dr. Simone Gofre and her doting partner Auriol. All they have in common is a powerful and self-absorbed devotion—until…
Al Qaeda has been reborn and in this dangerously overpopulated world the war on terror continues, ever more vicious and amoral. In the outer reaches of the CIA, where Don Costello operates, and the inner sanctum of MI5, where Wenna Cavendish is head of the Eastern Desk, conflicting plans are put into operation.
When the worlds of the lovers, the terrorists and the Security Services collide, potent emotional bonds are shattered and the effect on their world, and ours, is catastrophic.
PRESS COMMENT ON PETER HILL'S PREVIOUS BOOKS
The Staunton and Wyndsor series and the Commander Allan Dice books, all previously published world-wide in hard and paper back in the 1970s and now available as eBooks
'This is a taut, handsome job, beautifully written, full of real characters and acute observations.'

The New York Times
'A really first-class who-dunnit'

Essex Chronicle
'Exceptionally well told, with satisfying outcome.'

Columbus Sunday Dispatch
'Lies, gossip, jealousy and a generous serving of bedroom undercover work fail to deter two of Scotland Yard's finest in this entertaining mystery with an extra twist or two… or three.'

Pittsburgh Press
'Peter Hill does a fine job with character, plot, atmosphere and suspense.'

Publishers Weekly
'… a pair of attractive investigators—the young and aristocratic Leo Wyndsor and the slow-moving but smart veteran Bob Staunton. The case takes them to Cornwall, where a man has been murdered and hung on an old gibbet… All this is very agreeable, especially in Mr. Hill's smooth and often sympathetic telling.'

New York Times
'I'd like to see Messrs. Staunton and Wyndsor in more books. They're a lot of fun—and they're good detectives.'

Daily Press, Newport News, Virginia
'Bizarre murder and a full, meaty, thoroughly absorbing account of the investigation with sex spicily sandwiched in.'

The Times
'… an acute professionalism. What is even better, it has the holding qualities of a rock-loving limpet.'

The Bookseller
'Zippy, intricate Chinese puzzle laid out with high laconic skill…'

The Sunday Times
'Peter Hill does a fine job with character, plot, atmosphere and suspense.'

Publishers Weekly (US)
'A tremendous piece of fast moving fiction. Not one word wasted, the story starts and ends with a bang.'

Coventry Evening Telegraph
'A lively example of the permissive roman policier.'

The Observer
'Taut, sharp, fast moving.'

Manchester Evening News
'To follow… the brilliantly inspired tracking of Hill's two detectives is a joy, apart from the brain-teasing pleasure of accepting the author's challenge to identify the murderer.'

London Evening News
'Peter Hill has done it again—a fast-moving, action-packed thriller involving the secret service, the police and underworld criminals.'

Coventry Evening Telegraph
'A really good thriller writer. Very clever at the way he measures out clues… Written in staccato sentences, each a drum tap tautening the tension.'

The Daily Telegraph
________________________________________