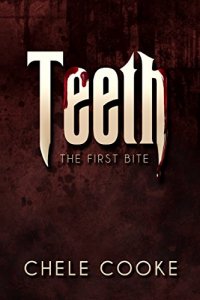 "We cannot be merely carnivores. We must be cannibals."
Medical student Thomas wakes up in a blood-drenched basement room, with no memory of how or why he got there.
Spencer has the answers, and now he must train Thomas to follow the rules of being a vampire – under the watchful gaze of his own mentor.
But how will Thomas practice medicine when the smell of blood turns him into a vicious killer?
Can Spencer teach Thomas to master his new powers, before he's turned from predator into prey?
The first book in the TEETH dark paranormal vampire series, TEETH: THE FIRST BITE is a deviant and humorous paranormal thriller novel
Are you ready to take a bite of this dark fantasy series?
TEETH is an Urban Fantasy action, filled with horror, thrills, humour, and a dash of romance. With supernatural characters from all walks of life, you won't be able to get enough of the nighttime!
Fans are in love with this vampire thriller. With over 100,000 reads on Wattpad, readers are clamouring for more from this LGBT friendly series. They just love Spencer, August, and Thomas, and their dark fantasy world. Dripping in blood, the vampires, shapeshifters, telephathic characters are firm favourites.
Fans of True Blood, The Vampire Diaries, and The Originals, will fall in love TEETH: The First Bite.