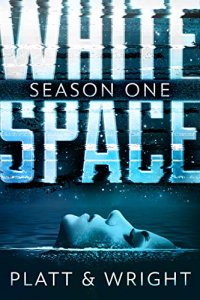 From the authors of the bestselling series, Yesterday's Gone, comes the roller coaster ride of a sci-fi serial thriller, WhiteSpace: Season One.
Hamilton Island looks like the perfect home. Maybe it would be, if it wasn't filled with tomorrow's nightmares…
The Puget Sound bedroom community has it all — beautiful homes with white picket fences, a thriving tech sector, and one of the best school systems in the state.
But not everything is as it seems.
People on the island go missing all the time.
Its residents are being watched.
And controlled.
When a school shooting rocks the quiet community Jon Conway returns home to make peace with his past and care for the daughter he never knew he had. When his daughter goes missing, he follows a broken trail of family secrets and betrayal that may just end him.
Cassidy Hughes has never been able to live in her twin sister's shadow. Now that her twin is dead, Cass must overcome an addiction to pills to care for her niece. But she starts to remember something that happened long ago — something that is still happening on Hamilton Island today.
Milo Anderson was lucky to survive the school shooting. However, as he's about to learn, the shooting wasn't nearly as random as it seemed. And when someone reaches out claiming to know the truth, Milo is convinced he's being watched. He also wonders how much his best friend, Alex, knows so much about the shooting.
????? "I loved reading White Space(season 1) also read Season 2. It's like Twilight Zone, Stepford Wives, and Invasion of the Body Snatchers all mixed into these thrilling series." — Kim Nev
????? "Whitespace" is as good as it gets. An excellent premise delivered in tantalizing bits to keep you on the edge of your seat. I'm reading Season Two as I write this and I'm still as hooked as I was with the first season. Great characters, realistic settings, good pacing – plain and simple, I love it." — Sky
????? "As with all of their books I've read so far, White Space is loaded with suspense, murder, mayhem and sometimes a light touch of humor to allow us to get our racing heart slowed down and prepare for the next thrill. You can't go wrong with these writers, no matter which book you read, and if your experience is anything like mine you will find, Nobody can read just one!" — Trudy Kimmy
????? "I am a Goner and I just love the way that David Wright and Sean Platt can keep you on the edge of your seat for every chapter in their books. White Space had that same style that I missed after finishing up all the seasons of Yesterday's Gone. Once I started White Space Season One, I had a hard time putting it down. I finished it in just a couple days but I hated to put it down to sleep at night or to go to work." — Karen
????? "WhiteSpace has been on my radar for some time now and I'm so glad I finally took the plunge. I LOVE the serial format and Sean and Dave are definitely masters of the form. So sad it's not a thing anymore. I absolutely loved WhiteSpace, the entire story is amazing. The characters, the creepiness, the setting and world…so completely awesome, it's got it all. And the ending, holy crap the ending! God these guys are good." — Adam Baileyb
WhiteSpace is a character-driven, mysterious, creepy, paranoid, sci-fi thriller that reads like the literary version of a televised serial with the mysteries of LOST and the future paranoia of Black Mirror. Read the whole series today.