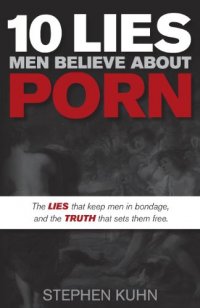 Free on 31st Aug 15 - 4th Sep 15


No reviews yet.
The battle to resist pornography is brutal.
Its lure just seems too powerful.
We've tried for years to be strong, run away from temptation, and manage our desires in better ways. No matter how hard we try, though, we just can't get free from pornography. Some of us have lost all hope.
What if the battle you've been fighting isn't even the real battle?
What if using pornography is just a symptom of something deeper going on inside of you?
What if the things you are doing to protect yourself actually contribute to your obsession?
Have you had thoughts like I'm the only one struggling like this, God must be so ashamed of me, or I've got to get stronger to overcome this? These thoughts are common. But they are also lies.
10 Lies Men Believe about Porn holds these lies up against the truth of Scripture. You'll learn how they deceive us into missing out on the freedom Christ offers us. Ultimately, you'll discover that the message of the gospel isn't about learning to fight better-it's about no longer needing to fight at all. That is the type of freedom Jesus came to offer you. That's why they call it the Good News.
"And you will know the truth, and the truth will set you free."
-John 8:32-