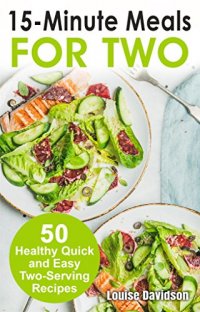 In just 15 minutes make a delicious and healthy homecooked meal for just the two of you! Full of flavor and always quick and easy to prepare, this cookbook's recipes will simplify your life and time spent in the kitchen!
Download FREE with Kindle Unlimited
Whether you are a homemaker or part of a working couple, time has become a very precious asset. Our routines are filled with hundreds of tasks, both big and small. There never seems to be enough time to finish them, and so there is increasing interest in healthy meals that can be prepared quickly.
This recipe collection includes nutritious recipes to prepare in 15 minutes for breakfast, lunch, dinner, or dessert. Explore our dedicated chapters on breakfast, chicken and poultry, beef, pork and lamb, vegetarian and vegan, and dessert!
This book focuses on quick cooking and delivering a practical solution to people who always find themselves running short of time to cook wholesome, delicious meals. With just 15 minutes of preparation time, the two of you can effortlessly prepare and enjoy healthy meals every day:
?Delightful breakfast recipes such as the Spiced Orange Couscous and the Flax Almond Crepes
?Wholesome chicken and poultry recipes such as the Mayo Grilled Chicken and the Spiced Turkey Burger Patties
?Satisfying beef recipes like the Bacon Veggie Steak and the Berry Sauce Beef
?Easy fish and seafood recipes like the Sardine Arugula Salad and the Shrimp Potato Salad
?Bountiful pork and lamb recipes such as the Sweet Tarragon Lamb and the Classic Stir Fry Pork
?Tasty vegetarian and vegan recipes like the Tomato Veggie Lentils and the Tangy Tofu
?Luscious dessert recipes such as the Chilled Choco Pudding and the Pecan Apple Compote Delight
All recipes come with a detailed list of ingredients, cooking and preparation times, number of servings, easy to follow step-by-step instructions, and nutritional information per serving.
Read on your favorite devices such as Kindle, iPhone, iPad, Android cellular phone, tablet, laptop, or computer with Amazon's free reading Kindle App.
Scroll back up and click the BUY NOW button at the top right side of this page for an immediate download!