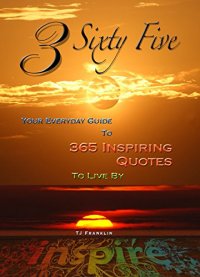 Free on 1st - 5th Mar 18



or borrow free on Kindle Unlimited.
No reviews yet.
Do You Love Feeling Inspired? "3 Sixty Five" Is Your Guide to 365 of the GREATEST Inspiring Quotes to Live By
Discover some of the best advice from the greatest philosophers, authors, influential figures and foremost thinkers of our time. Learn the secrets to success, life, love, happiness, and fruitful longevity. Nowadays, too many people live their entire lives never coming close to manifesting their dreams. Don't let this be you!
Sometimes it's the smallest simplest things that can make us smile and lift our spirits, such as kind words from a loved one, the laughter of a child, a fun song, or a great quote. This book contains 365 POWERFUL quotes to start your day off right each and every morning.
This book will instantly INSPIRE you, EMPOWER you, and CHANGE you!
In This Book You'll Learn From Greats Such As…
Helen KellerMother TeresaAlbert EinsteinNapoleon HillSocratesMahatma GandhiThomas EdisonMartin Luther King Jr.George WashingtonHenry FordAristotleOprah WinfreyZig ZiglarAnthony RobbinsJohn C. MaxwellMarcus AureliusConfuciusJim RohnArthur SchopenhauerBenjamin FranklinWalt WhitmanWilliam ShakespeareBuddhaJohann Wolfgang GoetheMark TwainPaulo CoelhoMuch, much more!
Download your copy today!
Here's What Others Are Saying…
"This book is a brilliant pick me up in the morning and gets you revved up to go and attack the day if you read a quote a day. The author did a fabulous job of finding worthy quotes to include in the book which will really motivate you to look at your life in a new way and improve every aspect of it!!"
Fred Clark (USA)
"If you are looking for a nice read to keep you going, this is it. Reading this book in the morning is a great good way to start your day. One quote each day, and your mood improves almost instantly. If you are like me, you will have a tough time limiting yourself to just one a day -yes, I ended up reading more than one daily. There is one thing clear: if you need some positive energy to boost your journey, this is it! Highly recommended."
Alexis (Capital Federal, Argentina)
"If you're in need of some extra motivation, you'll love this book! You get a great quote for every day – just read a new one in the morning, and you're sure to start your day with a great attitude. It's awesome to see what some of the most influential people have had to say before I get going each day! I'd love to see a 2nd volume for this."
Jason Step (USA)
TAKE ACTION TODAY to get yourself on the right track and live an inspiring life! Download this new book.