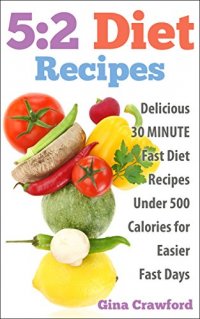 5:2 Diet – Make your body a fat-burning machine and live longer with the 5:2 diet and the power of intermittent fasting!
Delicious 5:2 diet recipes to make your fast days EASIER!
The 5:2 diet or fast diet is a unique approach to dieting that allows you to eat the foods you love for 5 days and do a modified fast on 2 non-consecutive days of the week. In 5:2 Diet Recipes you'll get 60 quick and easy 30 MINUTE low glycemic recipes for breakfast and dinner that will make your fast days a breeze!
The 5:2 diet makes losing weight easier and tastier than ever!
The power of the 5:2 diet is in intermittent modified fasting! We've been taught to eat six small meals a day in order to lose weight but is that really the right way to go about losing those unwanted pounds?
Intermittent fasting is about timing your meals to allow for periods of fasting. It takes your body about 6-8 hours to metabolize your glycogen stores. It is only after that period of time that your body switches to burning fat. If you keep nibbling on foods during that time, glycogen keeps being replenished. This makes it harder for the body to burn fat because it is caught in a constant cycle of making and storing fat.
Biologist Sarachidananda Panda and fellow researchers at Salk's Regulatory Biology Laboratory proved through their studies that constant eating can lead to weight gain, disease and metabolic exhaustion. They concluded their study by saying that "Time-restricted feeding is a non-pharmacological strategy against obesity and associated diseases."
Calorie counts are included with every recipe!
5:2 Diet Recipes follows the recommended fast day eating schedule of the founder of the 5:2 diet, Dr. Michael Mosley. Mosley lost 20 pounds of fat in 3 months on the 5:2 diet. His fast days involved splitting his allotted 600 calories between breakfast at 7am and dinner at 7pm. This allowed him to get two 12 hour periods of fasting within 24 hours.
5:2 Diet Recipes – Delicious 30 MINUTE Fast Day Recipes Under 500 Calories for Easier Fast Days includes a great variety of low glycemic recipes for breakfast and dinner that will take the thinking out of excessively counting calories on fast days.
5:2 Diet Recipes will help you:
Eat low glycemic foods to burn fatMake quick, easy 5:2 diet breakfast recipesMake quick, easy 5:2 diet dinner recipesLose 1 to 2 pounds a weekStay under or at your allotted 500 or 600 calories on fast daysIncrease your energyLower blood glucose, blood pressure and cholesterol levelsPrevent disease and stay healthyLive longer
This 30 MINUTE 5:2 diet cookbook includes recipes like:
Tomato Zucchini Bake with Eggs and BasilPortobello Mushroom and Spinach Egg NestPear, Walnut and Cinnamon PorridgeSkinny Minnie Tomato and Ham OmeletMeaty Breakfast Bake with Fresh ChivesCreamy Mushroom and Basil OmeletSpiced Poached Pears with Orangey YogurtMinty Goat Cheese FrittataPineapple Curry with Turkey MeatballsCrab and Avocado SaladSweet Steak with Barbeque SauceLime and Ginger SalmonPrawn Fajitas with Creamy Avocado SaucePork 'n Fruit SteaksAsian Salmon and Broccoli BakeSesame Basil Chicken SaladGaram Masala Chicken with Mango SalsaItalian Beef Stew….and more!
Dieting shouldn't be drudgery! 5:2 Diet Recipes will help you enjoy your life at your ideal weight with fabulous health and fabulous food!
DOWNLOAD YOUR COPY TODAY!
5:2 diet, fast diet, 5:2 diet recipes, fast diet recipes, fast diet cookbook, 5:2 diet cookbook, fast diet book, the 5:2 diet, 5:2 diet, intermittent fasting, 5:2 diet recipes, 5:2 diet cookbook, low carb, low glycemic recipes