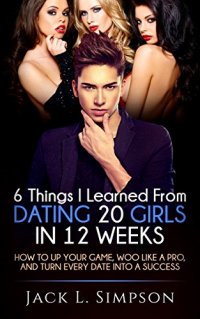 Bargain on 30th Jan 18



or borrow free on Kindle Unlimited.
No reviews yet.
Want to learn how to up your game, woo the ladies like a pro, and never have to deal with awkward silence ever again?
Hey there! I've got something I need to confess to you. I'm a bit of a man-ho. Last summer I decided to fulfil a lifelong goal and finally get over my shyness around women. How did I go about doing this? By going on 20 dates with 20 different girls over the next 6 weeks. Naturally.
This was one of the craziest experiences of my life. It was hard. And scary. And really embarrassing at first. But I'm so thankful that I did it. I learned so much. And that's why I wrote this book. To share a couple of the totally kick-butt tips that I picked up through trial and error.
If you want to avoid the fatal mistakes I made, you need this book. It'll take even the most amateur dater, and turn you into a professional ladies' man.
Here's a glimpse of what you'll learn from this book:
How most people ruin their date before it even begins.
How to break the ice and start your date off on the right foot.
Why girls can instantly tell if you're 'faking it' … and how to avoid this.
How to effortlessly impress any girl without even trying. (HINT: It doesn't matter how talented you are or how many achievements you have. It's not even about you at all.)
How to avoid the plague of awkward silence and never run out of things to talk about.
Why it's totally fine to talk about politics or religion or whatever you want.
How to keep your chill and not stress out before (or during) a date.
The perfect length for a date. (HINT: Most guys don't know this simple trick that will leave her DYING to see you again.)
If you want to take your dating game to the next level, you NEED this book! I've already made all of the embarrassing mistakes, so you don't have to!
Learn from my awkward fails, and invest the tiny amount of time and money I'm asking for this book so that you can give any lady the night of her life.
 This Book is Perfect For:
Any guy that has been scarred for life on a date before.
Any guy that is terrified of awkward silence but doesn't know how to overcome it.
Any guy that has a great personality, but can't seem to get that across on the first date.
Any girl that is super stalker-ish and wants to read a random book about men's dating advice. (Just kidding, even though the book is directed at men, all of the tips will work for women too!)
Grab your copy today!