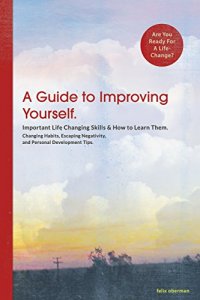 Free on 26th Feb 15 - 2nd Mar 15


No reviews yet.
Learn and Understand the Big Picture to Improving Yourself. Overcome Negativity, Change Bad Habits, and Grow as a Person
Today only, get this Lifestyle Guide for just $0.99. Regularly priced at $4.99. Read on your PC, Mac, smart phone, tablet or Kindle device.

You're about to discover how to think big picture about your life and improving your situations. Millions of people struggle with unhealthy and unproductive habits, are unsure of themselves in social situations, and neglect important things in their life while pursuing their careers. Learn from this book how you are in control of your personality, your environment, your lifestyle choices. By thinking big picture and making some fine-tuned, simple adjustments to your habits, you can greatly improve your well-being, confidence, and situational comfort. Whether you find yourself constantly focusing on the negatives in life, you feel awkward in certain social situations, or you simply want to learn to improve yourself and develop new skills day to day, this book is a great starting point for you.

Most people realize they want to improve themselves and would like to learn life-chafing tips and tricks, but have no idea where to turn for help, or where to begin. You'll learn that it doesn't have to be about massive changes and overwhelming decisions. By taking small, manageable steps each day and learning to think about yourself appropriately, you can dramatically improve your level of comfort, your productivity, your ability to connect with others, and open up your life for new and exciting gifts and paths.

Overcome bad habits, deal with negativity, learn to present yourself in any situation, and begin to understand what is truly important to you in your life and workplace.
A Guide to Improving Yourself: Important Life Changing Skills & How to Learn Them. Changing Habits,

Escaping Negativity, and Personal Development Tips, will provide you with an overview on problem areas that most of us face in our lives. It will lead you down a path of correctly thinking about your choices, and give you the tools you need to succeed in overcoming negative thoughts, bad habits, and fear of social situations.
Here Is A Preview Of What You'll Learn…
Big Picture Thinking About How To Improve YourselfMethods To Beat Bad HabitsHow To Quit SmokingHow To Stop Excessive Gaming How To Stop Binge Watching TV SeriesLearning To Say NoLearn How To Make Small TalkPublic SpeakingOvercoming NegativityHealthy Eating HabitsSetting GoalsNurturing FriendshipsMuch, much more!

Download your copy today!

Take action today and download this book for a limited time discount of only $0.99! Learn Successful Tips To Improving Your Life Today!



Tags: important life skills, changing your life, life-change, escaping negativity, personal development and transformation, life tips, life transformation tips, personal transformation, Skills that will better our lives