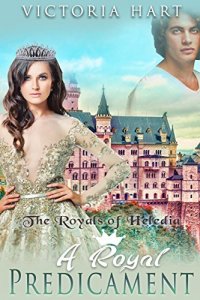 How can Sonia, the new young Queen Sonia of Heledia, choose between her duties as Queen and following her heart? A clean, sweet royal romance that will touch your heart.
Download FREE with Kindle Unlimited!
Sonia has just been crowned Queen of Heledia since her brother Nick chose to marry his beloved Isabel and abdicate the throne. The young queen is ready. She has always taken her position seriously, and she tells herself she can handle all these responsibilities and duties. She loves her life as the queen of Heledia, and she knows how important her role is for her people. But once in a while, she would just like to be a regular person and feel normal again without her security and administration checking her every move.
One night, she manages to sneak out without drawing any attention to herself. Just for a moment, she wants to feel like a normal young woman her age. When she meets Antonio, her world is turned upside down. She knows she can?t risk falling in love with him, but the attraction is so strong?
And then, handsome Matteo offers her a solution ? marry him instead. But Sonia knows where her heart lies.
Can she betray her people and pursue her love affair with Antonio? Or will she marry Matteo, even though she already knows that a life with him will not be as it seems?.
Read on your favorite devices such as Kindle, iPhone, iPad, Android cellular phone, tablet, laptop, or computer with Amazon's free reading Kindle App.
Scroll back up and click the BUY NOW button at the top right side of this page for an immediate download!