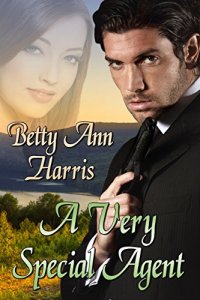 Free on 29th Jan 15 - 2nd Feb 15


No reviews yet.
Best-selling romance author, Maggie Tyler, is being stalked and threatened by a psychotic fan. Alone and afraid, she turns to the FBI for help.
Stephen O'Leary is the tall, dark, and ruggedly handsome FBI Special Agent who is assigned to protect her. Upon meeting Maggie, Stephen is totally smitten by this widowed beauty, a woman who possesses a kind heart and deep passions that match his own burning desires.
Amidst danger, mystery, and the villain's overwhelming compulsion to have Maggie all to himself, she and Stephen fall madly in love. But by doing so are they unknowingly sparking jealousy and a dangerous obsession the stalker has to have Maggie all to himself?
Review for A Very Special Agent – novella

I enjoyed it. The two main characters are charismatic and have great chemistry. I like how the relationship grows between the two of them and the love scenes are well written. The setting is very dramatic and lends itself well to the story. The author describes the setting well enough for the reader to picture it. The stalker just kind of sneaks up on the reader as well as Maggie and Stephen, and this leads to a very exciting and satisfying conclusion. This quick read is very enjoyable.

Maura

Reviewer for Coffee Time Romance