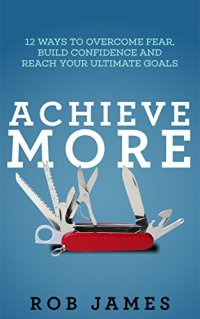 Free on 30th Apr 20



or borrow free on Kindle Unlimited.
No reviews yet.
Gripped by fear, lack of confidence or just plain old procrastination? Always feeling like another, day week or year have passed you by without achieving any of your goals or anything at all?
Well through the 12 simple steps and exercises in this book you will learn how to take positive action, destroy your fear, build self-confidence and set out a plan of action to achieve your ultimate life goals.
This book will give you the tools to stop procrastinating and take massive action towards achieving more of everything you want. Whether this is more money, more fun, more friends, more spare time.
Through this book you will learn the benefits of daily actions to reach your most ambitious goals progressing everyday whether by large leaps or daily micro steps.
What this book will do for you
Demystify the term of mental toughness, what it is and how to get it to achieve your goals.  
Help you identify and set clear actionable goals and track your progress
Ensure your thoughts remain positive with self-motivation techniques
Help you visualize your goals clearly and design your own positive affirmations to keep you on track.
Strengthen your self-confidence and address fears you may have
Help you design a healthy lifestyle to boost energy and focus helping you progress towards your goals
Help you identify and avoid distractions to your goals.
Want actionable steps and solutions to the above?
If you have a desire to reach your life time goals — and improve your motivation to do all this — then you should check out Achieve More: 12 ways  to overcome fear, build confidence and reach your ultimate goals. 
Take your first step now! Pick up your copy today by clicking the Buy Now button at the top of this page