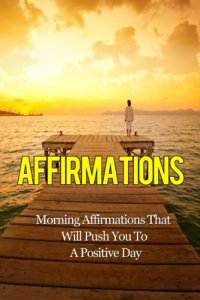 Have you ever wanted the easy shortcut to success? There is no shortcut or magic bullet, but morning affirmations are the closest thing!
Today get this Amazon eBook for only $0.99 Regularly priced at $2.99. Read on your PC, Mac, smartphone, tablet, or Kindle device!
This Morning Affirmation Guide Details Why Affirmations Will Change Your Life One Morning At A Time
This guide will help you get started on an affirmation routine that will push you to a new level of positivity. Ever noticed how some people start the day so strong and have huge amounts of energy all day? A big part of that are their daily affirmations. These confidence-building phrases are simple, but extremely effective.
A Preview of What You Can Learn
How to build a consistent affirmation routineHow to create lasting passion that's lasts the whole dayHow to foster great expectations for the futureWhat most people are doing wrong with affirmationsHow to use a mirror as a crucial elementNo longer procrastinate on starting affirmations
How could you benefit from a book like this? I've created a guide that helps you keep your attention on your bright future. Affirmations are so powerful because you are providing the map to yourself. It is sinking into your subconscious and it is in your voice which can be very potent. I show the guidelines that are necessary to create your own affirmations as well.
Download Your Copy Today

The material in this eBook is easily worth more than $2.99, but for a limited time you can download Affirmations: Morning Affirmations That Will Push You To A Positive Day for a discounted price of only $0.99!
To order Affirmations: Morning Affirmations That Will Push You To A Positive Day click the BUY button and download your copy today. You can read the book from the convenience of your Kindle, Computer, or Tablet.