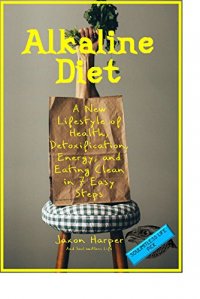 Bargain on 28th May 18 - 1st Jun 18



or borrow free on Kindle Unlimited.
No reviews yet.
Better Health, A Better Balance
You're about to discover how to Live an Alkaline Lifestyle. Welcome to a new kind of "dieting". Not a diet but a lifestyle change for the better. Finally real chemistry is no longer taking a back seat to the human body, and with the application of science we have real hope to putting an end to disease and poor health.
There's been much debate about the benefits and drawbacks of altering body pH. Instead of joining the cacophony of people claiming that body chemistry does not matter when it comes to health, I like to go directly to the source: actual provable good scientific research.
Here are just some of the positive conclusions that moving from a state of acidity to alkalinity has MAJOR health benefits (in general, consult a physician for your specific case)
benefits bone health, reduces muscle wasting and can drastically reduce chronic diseasesboosts natural growth hormones that improve cardiovascular health, memory and cognitive functionsallows for improved function a variety of enzymes especially those that require vitamin D which are very much essential to daily lifeseems to affect and/or modify chronic diseases that a person is currently suffering from. In some cases alkalinity can reduce or even repress chronic symptoms
Here Is A Preview Of What You'll Learn…
An Alkaline Diet Explained How to Quickly Change from Acidic to AlkalineTop Alkaline Foods to Incorporate Into Your Diet7 Steps to better pHIncorporating an Alkaline Tincture(recipe)And Much, much more!
Download your copy today!
Take action today and download this book for a limited time discount of only $0.99!
You Need This Book.
Check Out What Others Are Saying…
"This book gave me the tools I need to live a healthier life that is right for me." – Dan Ringdahl