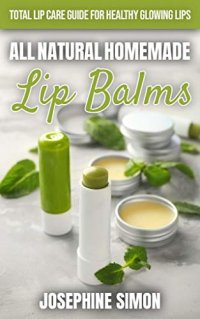 This collection of homemade all-natural beauty products for lips will make your lips healthier and glowing all year round!
Download FREE with Kindle Unlimited
Our lips are parts of our body that are the most in contact with a variety of foreign things, whether it is while we eat, speak or more. Yet they just aren?t protected so well naturally. This is where humanity?s knowledge of nature comes in. We have already thought up many great ways to properly care about our lips and this book is here to show you some of the best.
Protecting and Caring for our Lips
No matter where we go, our lips are constantly exposed to the elements. Heat, sun, and cold all present their challenges for the lips? delicate skin. We don?t have oil glands in our lips, so they can dry out fast. We need to provide moisture and protection to keep our lips feeling and looking healthy.
It turns out that nature provides several healthy alternatives to the standard store-bought options, and you?re likely to have some of them in your home already. We?ll show you how to create safe and effective lip care products, including natural UV protectants and moisturizers.
We?re so excited to share this collection of healthy lip treatments with you. We?ll show you the tremendous variety of options you have, and our formulas include NO harmful ALL-NATURAL ingredients. All these recipes are inexpensive and easy to make.
We think that once you start customizing and using your favorite blends, you won?t miss the retail products. With this book, you can begin making and sharing lip care products that support your health with natural ingredients.
Inside, you will find:
?All the information you need to care for your lips and keep them glowing and healthy year-round.
?The ingredients you will need to make your own lip care products.
?Lip scrub recipes to rejuvenate your lips such as the Vanilla coffee Lip Scrub, the Chocolate Lip Scrub, and the Vanilla Brown Sugar Lip Scrub.
?Lip mask recipes to hydrate your lips and nourished with vital minerals and vitamins like Aloe Vera Overnight Lip Mask, and the Honey Avocado Lip Mask.
?Lip balm recipes to moisturize and protect our lips such as the Party Swirl Lip Balm, the Honey Lemon Lip Balm, the Soothing Herbal Lip Balm, the Cinnamon Spice Lip Plummer, and the Berry Lemonade Lip Balm.
?Lip gloss recipes to make your lips shine like the Candy Lip Gloss, and the Custom Tinted Gloss.
?Healthy lipstick recipes to make your lips pretty such as the Natural Lipstick and the Basic Red Lipstick.
?Natural remedy recipes for chapped, dry and split lips
?Natural remedies for cold sores on the lips
?Home remedies to lighten dark lips
Read on your favorite devices such as Kindle, iPhone, iPad, Android cellular phone, tablet, laptop, or computer with Amazon's free reading Kindle App.
Let?s get started making your lips the healthiest and glowing.
Scroll back up and click the BUY NOW button at the top right side of this page for an immediate download!