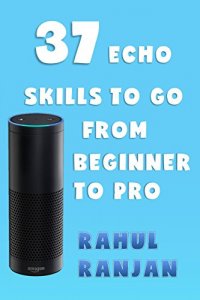 Amazon Alexa: Learn 37 alexa skills to achieve a complete mastery and become a Pro in commanding Alexa
Stop wasting time in figuring out how to use your Echo all by yourself. This book will literally take you by hand and show you how to interact with Alexa to get maximum no. of things done in a short time.
How this book is different from all the other books on Echo?
Most other books out there tell you do this, do that but they don't show you exactly how to actually use a particular skill of Alexa in your day to day life to save time and increase productivity.
The book first introduces you to a particular skill of Alexa at the beginning of each chapter.
Then it shows you how to perform that skill with screenshots of the Alexa app and commands to give Alexa.
Finally you will learn how to make any skill of Alexa a part of your routine to save your precious time, and do things in literally a minute that previously would have took you 1 hour to perform
The book comes with a FREE ebook "25 Amazon Alexa skills to make life more fun and interesting". To download your FREE ebook click on the look inside feature and you will find a link to download the FREE ebook
Don't delay anymore. Buy this book today