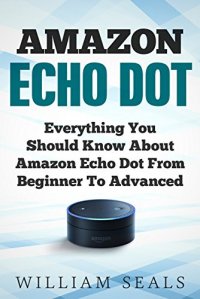 Free on 21st - 23rd Oct 18



or borrow free on Kindle Unlimited.
No reviews yet.
Amazon Echo Dot For Beginners
Getting a new Amazon Echo Dot is absolutely exciting! If you got it as a gift; then lucky you. You can say that Amazon decided that you don?t need just one Echo device in the home ? you need at least ten (I?m not suggesting that you get that many though).
Take note however that most of the information contained in this book is for the Amazon Echo Dot 2nd generation.
This book will walk you through the Echo Dot setup process, which is actually pretty easy. It will then show you how to connect it to your smart appliances like your door locks, TV, speakers, smart cameras, and pretty much anything that connects to it.
You?ll also learn the commands that you can use and the other soft features of this product. In addition we?ll cover how to setup your own smart home and how you can use your Echo Dot to control various appliances or entire groups of appliances. You will also learn about scenes as well as a growing list of skills that Alexa is acquiring (yep, she?s getting new ones every time), which skills are the best or most useful, and how to use them.
Then we?ll look into some of the most common issues experienced by Echo Dot owners. Of course, we?ll go over the steps so you can fix them. The goal here is to help you get comfortable with the Amazon Echo Dot and maximize its use inside the home.
So, grab your Amazon Echo Dot and let?s get started!
Here is what you will find inside:
Amazon Echo Dot ? The Evolution BeginsHello AlexaGetting Started With The Amazon Echo DotUsing the Alexa RemoteConnecting Your Echo DotAlexa?s Operational BasicsGetting Things Done With AlexaAlexa?s Easter EggsAlexa And Her Growing Number Of SkillsWorking With Smart Home DevicesSetting Up an Alexa Smart HomeTroubleshooting Common ProblemsBONUS CHAPTER from "Amazon Dot: Amazon Dot For Beginners ? Everything You Need To Know About Amazon Dot Now"And Much, Much More…
Download Your Copy Right Now!
Tags: amazon dot, amazon echo dot, amazon echo, amazon echo for beginners, amazon echo user guide, amazon tap, amazon tap for beginners, voice command device, amazon device, amazon echo functions, amazon echo book, amazon echo book-course, alexa, alexa voice service, alexa kit, alexa skills kit, amazon echo dot, amazon prime, amazon echo course, amazon echo benefits, amazon echo at home, amazon prime, user guide, digital media, smart device, main functions, multifunctional device, business device, to-do lists, audiobooks