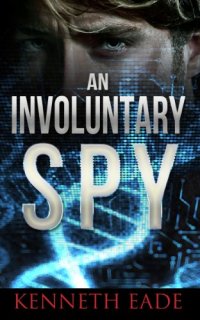 Free on 22nd - 23rd Mar 15



or borrow free on Kindle Unlimited.
No reviews yet.
If you want a more realistic, modern-day James Bond, complete with contemporary ethical concerns, you will be held hostage to the fast action & intrigue in this #1 best selling spy novel
Exposing the Truth Marked Him for Murder
We've extended the discounted price of this book until the end of March. Get your copy now before the price goes up to the normal price of $3.99. Seth Rogan was a bad spy. That's because he wasn't a spy at all. Just a guy trying to do the right thing. As a biologist for the largest biotech company in the world, he had a great job, and enjoyed all the perks. But when asked to do some tests on the company's genetically engineered (GMO) foods, he uncovered secrets that entangled him in a web of corruption, fraud and conspiracy that he wanted no part of, but could not escape from. In a story of mystery and suspense so true to life it could almost be from today's newspapers, Seth, having bit the hand that fed him, is on the run from CIA, the FBI, and the full overreaching strength of the United States government, charged with espionage, and finds temporary refuge with an old enemy-Russia. But his peace is about to be broken as he finds himself in the role of an involuntary spy.
Critically acclaimed
An Involuntary Spy is absolutely riveting, suspenseful, and and an eye-opener to the controversial effects of genetically engineered food. San Francisco Book Review Kenneth Eade has gone where no man has gone before-he's made the GMO issue into a spy thriller. IPublisher News "Any who want a more realistic, modern-day James Bond complete with contemporary ethical concerns will find themselves held hostage to the fast action and intrigue in An Involuntary Spy, right up to the satisfyingly-unpredictable conclusion made all the more powerful for its real basis in today's uncertain experiments." Midwest Book Review"It just could be that this book breaks the real life controversy wide open." Atlanta Health Examiner
˃˃˃ Go on a roller coaster thrill ride of international intrigue and cat and mouse espionage:
Seth is always one heart-pounding step ahead of the CIA and the FBI, who follow his every move. Fleeing the country like Edward Snowden, Seth wages a battle of wits against the CIA, the FBI and double agents to bring the message of the dangers of genetically engineered foods and government corruption to the people.
˃˃˃ An Involuntary Spy rocketed to the top of these Best Seller Lists:
1. #1 Best selling Political Thriller
2. # 1 Best selling Genetic Engineering Science Fiction Thriller
3. # 1 Metaphysical Best Seller
˃˃˃ Find out what readers already know
"As good as any spy novel on the New York Times Best Seller List"
"Once you start reading it, you won't be able to put it down."
"If even a shadow of this is true, the world is not safe. Read it."
"Russian rogues, the FBI, the CIA. Bloodshed and murder trace his steps throughout Russia."
"It makes me wonder how much more the government and big business are keeping from the general public."
"Scientist turned whistleblower and involuntary spy is on the run from his employer and government agencies."
"It certainly opened my eyes as to what big corporations are doing in this country and their greed at the expense of our health."
"A Must Read"
"Storytelling Mastery."
"Couldn't put it down."
"Fast paced, action packed political thriller"
NOW ON SALE BY SAME AUTHOR: LEGAL THRILLERS "HOA WIRE," "PREDATORY KILL" AND "A PATRIOT'S ACT"
Buy the paperback version and get the Kindle match book FREE!
Buy An Involuntary Spy now, on Kindle or paperback, while the price is still low. Scroll up and get your copy of the best of spy stories and intrigue!