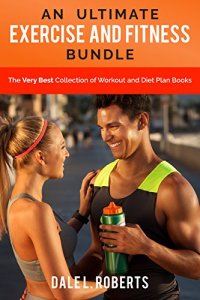 Free on 7th - 8th Jan 15


No reviews yet.
This book appears to be unavailable on Amazon.co.uk at the current time. If this is incorrect, please let us know here
Learn How to Lose Weight and Feel Great IMMEDIATELY
With the Ultimate Exercise and Fitness Bundle that contains the Very Best Workout Plan and Diet Books on the Market TODAY

Do you want to lose weight now? And, not tomorrow???
Can you do without all these insane boot camp workouts and crazy crossfit routines?
Are you tired of being exhausted and having low energy all the time?
Do you get sick of spending your money on energy drinks, caffeine, and other stimulants so that you can only tolerate another day?
Wouldn't you like to avoid insane diets that have fleeting success and vicious rebounds?
How would you like to eat the foods you love, lose the weight you want and do it all starting TODAY?
Then "The Best Exercise and Fitness Bundle: Simple Workouts to Lose Weight, Feel Better, and Gain Energy" is Just What You've Needed!

Experienced personal trainer and author Dale L. Roberts presents his two internationally sold books "The 3 Keys to Greater Health & Happiness" and "The 90-Day Workout Plan" in one bundle. Over the past nine years, the author has had hundreds of client success stories and now he shares some of his inside secrets and simple tips for better weight loss with long-term results.
Exclusively with this bundle you will get NINE BONUS BOOKS ABSOLUTELY FREE! This includes:
The ABC Workout Plan: Firm, Tone, and Tighten Your Abs, Butt, and CoreThe Chest and Arms Workout Plan: Firm, Tone, and Tighten Your Upper BodyThe 15-Minute Standing Abs Workout Plan: Ten Simple Core Exercises to Firm, Tone, and Tighten Your MidsectionThe 11 Best Cardio Workouts: To Burn Fat, Tone Up, and Lose WeightThe Best Green Smoothies for Weight Loss: Over 30 Simple Recipes for Healthy EatingThe Best Juicing Recipes for Weight Loss: Over 30 Healthy Fruit & Vegetable BlendsClean Eating Recipes: Over 30 Simple Recipes for Health Cooking (Book One)Clean Eating Recipes: Over 30 Simple Recipes for Health Cooking (Book Two)BONUS SPECIAL – Gym Etiquette: 25 Things You Shouldn't Do In The Gym That No One Tells You AboutAND, One Additional Bonus for New Subscribers to the Fitness Insiders, a Free Resource and Direct Line to a Qualified and Experienced Personal TrainerKindle Unlimited Membership allows you unlimited access to ALL of this and more!Seriously, you get fun and effective workouts, exercises for any fitness level, a basic diet plan and tons of delicious recipes to kick some ass in your health and fitness plans. So, what's stopping you from claiming the life you so richly deserve?
Scroll to the top of the page and click the buy button to start your better life TODAY!