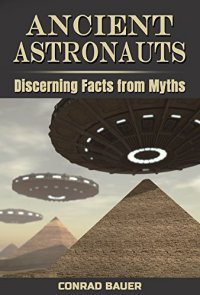 Did astronauts from other parts of the Universe visit earth before? Let's find out and discern the facts from the myths and conspiracies surrounding the Ancient Astronauts
Space is vast, but rarely do we think that time is vast, too. Are we the first to visit Earth? Are we the only ones to ever do so?
Since ancient times there have been strange stories of strange visitors from the stars. Ancient man often referred to these beings as gods and goddesses, but with a more modern perspective, many have begun to see these age-old myths and legends much differently. One of the most remarkable new interpretations is the ancient astronaut theory. This concept has received widespread attention and has gained more and more mainstream acceptance over the last few decades.
This book does not seek to convince or persuade anyone of anything; it simply takes a look at the latest findings in the field and invites you to draw your own interpretations and conclusions.
if you are fascinated by the unexplained mysteries and paranormal phenomena on our planet, you will enjoy this book
Find out about the cases of possible ancient astronaut visits to our planet including:
?In Ancient Mesopotamia
?Mentioned in the Bible
?Mentioned in the Vedas
?In Ancient Egypt and Peru
?In Ancient Greece and Rome
?In Ancient China
?In Renaissance Europe
?On the British Isles
Read FRee with the Kindle Unlimited program
Read on your favorite devices such as Kindle, iPhone, iPad, Android cellular phone, tablet, laptop, or computer with Amazon's free reading Kindle App.
Scroll back up and click the BUY NOW button at the top right side of this page for an immediate download!