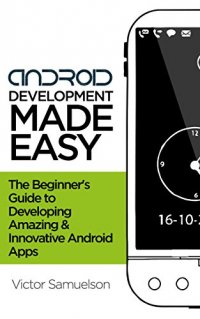 The Beginners Guide to Developing Amazing and Innovative Apps
Apps are the rage and without doubt you have seen one and thought "I can make a better one than that!" But the idea of having to learn a whole programming language scared you away. If you have ever wanted to create and build an application for the Android platform this book is for you!

It does not matter how novice, you are or whether you have even ever seen a line of code. This book is the definitive guide for learning the steps required to build your own app.

Other books will teach you vague basics. This book will take you step-by-step through the process of designing, refining, creating, marketing and even making money on your App! This book will teach you how to build a simple App in less than 1 hour without writing even one line of code.

This book is easy to follow and spares no effort to make your introduction to the world of Apps a successful one! It will cover the Android platform and its benefits. By the finish, you will know the inner workings of the Android platform and creating an App.

You do not need any previous experience to benefit from this book. A can-do attitude, computer, internet connection and a smartphone are all you need!

Scroll-Up and Download Your Copy Today