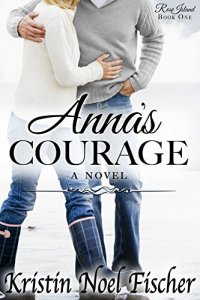 Free on 8th - 12th Nov 18



or borrow free on Kindle Unlimited.
No reviews yet.
Also Available as:
Print Edition

"Anna's Courage" is a heartwarming love story about having the courage to be brave in spite of your fears.
Helicopter pilot Anna Morgan hasn't flown since her husband's death several years ago. Instead, the young army widow has sought refuge with her son on peaceful Rose Island. Surrounded by family and friends, Anna vows never to do anything more dangerous than arrive late to a PTA meeting.
All that changes when Captain Nick Peterson comes to the island to take custody of his orphaned nieces. Anna feels compelled to help Nick with the girls, but what is she supposed to do about her growing attraction to him? And will the disappointments in Nick's past prevent him from embracing the power of forgiveness and family?
From the author of "A Mother's Choice," comes a new series filled with romance, faith, and healing. Told with humor and sincerity, "Anna's Courage" will have you yearning to visit the peaceful community of Rose Island again and again.
PRAISE FOR "ANNA'S COURAGE"
"I read this during a time of depression and it was the one part of my life that gave me a wonderful escape and something to look forward to. I loved the characters and themes running through this wonderful story!" Kindle customer.
"Kristin Noel Fischer once again shows her ability to create characters we care about deeply. I can feel Anna's loss and understand her need to control the world, to make it a safe place. This is also a story of faith and love and growth by this talented author. Highly recommended." Jane Myers Perrine
"A great book about life changes. Sad and happy at the same time. Looking forward to the next book! Love all of the characters!" Amazon Customer
"Great story. Wonderful characters. I want more of these characters. Looking forward to the next book in the series. I highly recommend this author." Moira M.
"Anna's Courage draws the reader in from the first page and keeps you hooked to the end. The book beautifully unfolds the relationship of Nick and Anna and feels very relate-able to real life. This is the type of book you finish and you want to read the next one! Such an enjoyable read, highly recommended!" JMFV27
"An Inspirational Holiday Romance perfect for any time of the year."
"A Clean and Wholesome Romance, perfect for the beach!"