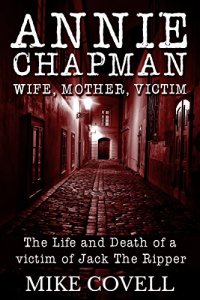 Free on 27th Mar 18



or borrow free on Kindle Unlimited.
No reviews yet.
The day of September 8th, 1888 started with the end of Annie Chapman.
What can be said or written about Annie Chapman that has not already been? That was the question Mike Covell was asked recently, and his reply was: a lot. We know of only a handful of reports and primary sources regarding her life and untimely death at the hands of a serial killer known only as Jack the Ripper, but there is always new material being discovered.
Annie Chapman's life was a tragic one, with suffering and pain at almost every step. By the time of her death she had lost one child, separated from her husband, and seen him pass away. Whether we accept her as a victim of Jack the Ripper or not, her story deserves to be told. Her story as a wife, a mother and a victim. This is that story.
Amazon #2 bestseller in English History. The book is also in development for a motion picture by Thunderball Films, LLC.