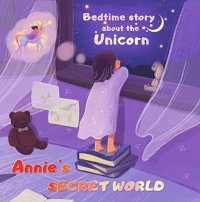 This is a cute bedtime story about a little girl who never stops dreaming! Together with her, you will plunge into the magical world of children's fantasies. A guide in this world will be a fabulous Unicorn, who will take a little girl on an exciting journey. At the end of an exciting journey, the Unicorn will wish good night and your child will fall asleep in a peaceful and restful sleep.
Why would you buy this book?
– This is a great opportunity to tell your child a fun and relaxing story before bedtime.
– These are great illustrations that your child will remember for a long time.
Read this book to your child 5-10 minutes before bed. The book was written for children 4-8 years old. It is also suitable for self-reading by older children.
Enjoy your reading minutes and good night to you and your child!