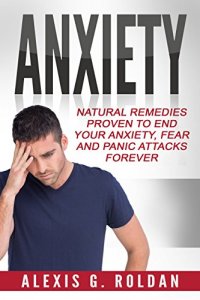 Free on 5th - 9th May 17



or borrow free on Kindle Unlimited.
No reviews yet.
For a limited time, get this Kindle book for just $0.99. Regularly priced at $2.99.
Discover Natural Ways To Overcome All Of Your Anxieties And Fears, Put An End To Your Panic Attacks Forever
When someone first starts to experience anxiety symptoms, their doctor will usually suggest that they start taking a prescription medication. However, that is definitely not the cure all and may not even be necessary. Many stress related issues can be treated very effectively with natural remedies.
In this book, you will learn all about natural remedies that have helped thousands of people relieve their stress and anxiety symptoms, and eventually even overcome them for good. These natural remedies are incredibly simple, and can help anxiety sufferers in a variety of ways. By taking advantage of this knowledge, you can start to take the appropriate steps towards improving the quality of your life.
Living with anxiety is hard, but you don't have to continue to live that way. Educate yourself and learn all about the different natural remedies that are available to you. Get control of your life once again and allow yourself to be the person you used to be. In this book, you will learn everything you need to know to do just that.
Here Is A Preview Of What You Will Learn…
The Effects That Anxiety Can Have On Your BodyHow To Use Everyday Activities To Alleviate Your SymptomsThe Many Health Benefits Of Using Natural RemediesNatural Remedies That Will Reduce Your Stress And AnxietySimple Exercise Routines To Overcome Your AnxietyAnd Much, Much More!Download your copy of "Anxiety" today. You'll be glad you did.