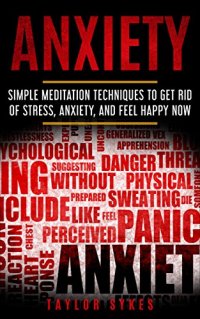 Free on 9th - 13th Jan 18



or borrow free on Kindle Unlimited.
No reviews yet.
Use These Simple and Powerful Meditation Techniques To Get Rid Of Stress, Anxiety And Feel Happy Now!
Are you feeling sad, lonely, anxious and stressed? Has this greatly affected your productivity such that you never seem to get anything done? What you need is good old meditation. Meditation is a practice that involves resting of the mind so as to attain a state of consciousness that's different from that experienced in a normal waking state. It entails training the mind or inducing it to a state of consciousness that enables engagement in peaceful thoughts. It's a means that enables us to explore deeper levels within us and finally gets one to experience connection with the inner self. Meditation is a science and the process is anchored in specific principles that lead to the desired verifiable results.
This book covers in-depth information regarding what anxiety actually is, what the causes and consequences are and how one can break from the grip of anxiety. It also shares the various stages of anxiety and how you can get to know that anxiety is becoming a disorder. The book has also shared how anxiety influences people's mind and perception negatively to the extent that one fails to clearly see what the reality is as they get to view things in a distorted manner. As much as anxiety disorder may prove to be complex given it leaves one in a very negative situation, practicing meditation has been proven through many studies to help with getting rid of stress and anxiety.
Here is a preview of what you'll learn…
Understanding Anxiety and its Impact When Anxiety becomes a DisorderChanging perceptions that Contribute to anxietyUnderstanding MeditationMindfulness meditationGetting rid of anxiety and stressBenefits of Meditation And Much, Much More!
Take action now and get this kindle book for only $2.99!