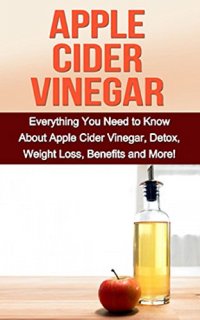 Apple Cider Vinegar
Apple cider vinegar has been receiving a lot of attention recently – and for good reason!
Apple cider vinegar has been shown to provide a huge range of benefits, as well as have a range of household uses.
This book will teach you how you can use apple cider vinegar to improve your health, and enhance your well-being. You'll discover the range of benefits you can obtain, including weight loss, skin care, lowered cholesterol, and more!
You'll also learn how to include apple cider vinegar in food and drinks. Vinegar is a naturally sour tasting substance, and by itself isn't very appetizing. The recipes and suggestions provided will make it much more enjoyable for you to include apple cider vinegar in to your daily diet!
Here Is A Preview Of What You'll Learn…
What is apple cider vinegarApple cider vinegar benefitsApple cider vinegar recipesThe science behind apple cider vinegarTopical use of apple cider vinegarMuch, much more!
Download your copy today!
Tags: apple cider vinegar, vinegar, apple cider vinegar benefits, apple cider vinegar books, apple cider vinegar free, apple cider vinegar detox, detox