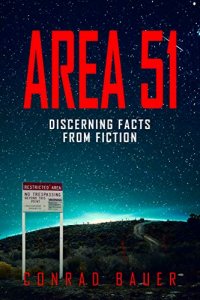 Area 51, a strange place where reality and conspiracy meet! Let?s discern the facts from the fiction!
Download FREE with Kindle Unlimited!
Area 51 is such a strange place. Perhaps that's the understatement of the century, but I just can't help but say it. It's strange on multiple levels. Area 51 seems to stand shoulder to shoulder in myth and legend with other mysterious locales such as Atlantis, Shangri-La, El Dorado, Neverland, and Oz?yet Area 51 itself is no myth. It's all too real.
It used to be the world?s most top-secret military installation, but now it?s arguably the most infamous. Long before the government finally admitted to its existence in 2013, Area 51 one has been the stuff of dreams and legend. There were long rumors of a veritable military citadel housing all kinds of exotic hardware, which was located somewhere in the wasteland of the Nevada Dessert. And strange sightings of the seemingly otherworldly craft were frequent.
Then in 1989, an alleged whistleblower?a supposed insider?came forward to tell the world that Area 51 was real. His name was Bob Lazar. This man claimed to have directly worked with propulsion systems that the military had in its possession that were not of this Earth. Although widely ridiculed, and derided?even by standard-bearers of the UFO community?30 some years later, Bob has maintained his story.
Now since new revelations from the Pentagon?s Advanced Aerospace Threat Identification Program (AATIP) have surfaced, detailing how the U.S. military has spent decades studying UFOs, some of Lazar?s controversial claims have been seemingly verified. The so-called ?Tic-Tac? UFO videotaped by the wing-mounted infrared camera of a F/A Super Hornet jet fighter, as been officially authenticated by the Pentagon.
This craft seems to use gravity as a form of propulsion as it rotates, tilts, and takes off at mind-blowing speed. After the alleged former Area 51 physicist Bob Lazar himself was shown the video, his immediate reaction was one of recognition. He believes that these craft maneuver and operate just like the ones he saw at Area 51. We?ve been dreaming of a mysterious place called Area 51 for a long time, have some of those dreams finally become reality?
Read on your favorite devices such as Kindle, iPhone, iPad, Android cellular phone, tablet, laptop, computer with Amazon's free Kindle App.
Scroll back up and click the BUY NOW button at the top right side of this page for an immediate download!